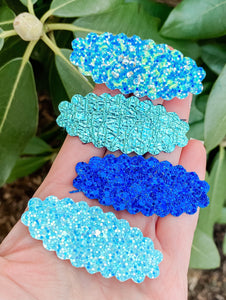 SET OF 4 Snap Clips
Regular price $0.00 $10.00 Sale
Every snap clip may look different due to pattern variations. Colors may appear different due to differences in resolution on your computer screen. Photos are taken without filters and in natural lighting. Snap clips measure approximately between 2.25" inches across using 50mm snap clips.  

A snap clip is comfortable since it conforms to the shape of your head. It secures hair in place. Snap clips have glitter and fun designs on them. 
Please allow 6-8 business days to ship your item. 
Returns and exchanges: We don't accept returns, exchanges, or cancellations on orders. Please check orders before they are placed to ensure they are correct. 
----------------Shop Disclaimer-------------------
Please keep in mind that the Sweet Pea & Me Bows contain small parts such as nylon and alligator clips. The bows should never be used or worn while a child is unattended or without the supervision of an adult. Please make sure to remove the bow when the child is sleeping or when they are in their car seat. Do not leave pets with bows as well for they may be choking hazards for them as well. 

All buyers use Sweet Pea & Me products at their own risk. Sweet Pea & Me is not responsible for injury or death caused by the use/misuse of our products.

By purchasing from Sweet Pea & Me you are agreeing to all of our policies listed above.