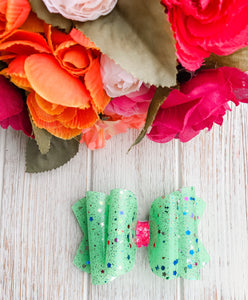 Green Transparent Pool Glitter Bow Headband | Hair Clip
Regular price $0.00 $8.00 Sale
Bow measurement includes entire length of bow.
Every bow may look different due to pattern variations. Colors may appear different due to differences in resolution on your computer screen. Photos are taken without filters and in natural lighting. 

All bows are spot clean only and are not to be machine washed. 
Pool Bow Care Instructions: Pool Bows are a summer fun beach accessory. They are meant for pool side, floaties, pool table fun, and light swimming only. Please do not wear them while doing any heavy swimming like going under water, diving, and cannonballs. We are not responsible if damaged from wearing during heavy swimming. Please lay them flat to dry after being wet and wipe them off. We not use plastic clips they will be on regular clips. Plastic can break. We use high quality alligator clips and plastic clips technically have metal in it  and may break. 


Please allow 6-8 business days to ship your item. 
Returns and exchanges: We don't accept returns, exchanges, or cancellations on orders. Please check orders before they are placed to ensure they are correct. 


----------------Shop Disclaimer-------------------
Please keep in mind that the Sweet Pea & Me Bows contain small parts such as nylon and alligator clips. The bows should never be used or worn while a child is unattended or without the supervision of an adult. Please make sure to remove the bow when the child is sleeping or when they are in their car seat. Do not leave pets with bows as well for they may be choking hazards for them as well. 

All buyers use Sweet Pea & Me products at their own risk. Sweet Pea & Me is not responsible for injury or death caused by the use/misuse of our products.

By purchasing from Sweet Pea & Me you are agreeing to all of our policies listed above.